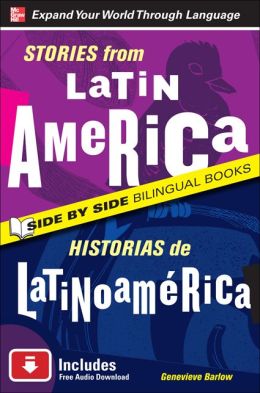 This slim bilingual volume of sixteen folktales and legends spans thousands of years and ten countries. From Columbia's "Poor Fool!" - the story of haughty Don Ramiro's amusing comeuppance - to Venezuela's "The Empty Boat" - the tale of a man's moral transformation - each story is written simply and elegantly, in language accessible to second language learners and developing readers. The Spanish and English versions are presented side by side for easy back and forth comprehension checks and back matter includes thorough translated vocabulary lists.
Stories from Latin America
also includes a map of Latin America and directions to accessing free MP3 audio recordings of four selected stories in Spanish.
--Regan Schwartz
Barlow, Genevieve.
Stories from Latin America.
New York: McGraw-Hill, 2010. Print.